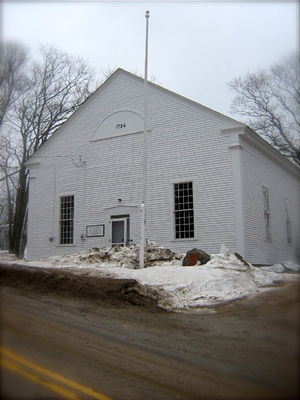 Here's a Way to Eliminate the Regulators and Lawyers, and Build Community At the Same Time: Organize and Declare "Food Sovereignty," Like Sedgwick, Maine
Maybe the citizens of tiny Sedgwick on the Maine coast were listening to the calls of Dave Milano, Ken Conrad, and others for more trust and community, and less rigid one-size-fits-all food regulation.
On Saturday morning, Sedgwick became likely the first locale in the country to pass a "Food Sovereignty" law. It's the proposed ordinance I first described last fall, when I introduced the "Five Musketeers", a group of farmers and consumers intent on pushing back against overly aggressive state food regulators. The regulators were interfering with farmers who, for example, took chickens to a neighbor for slaughtering, or who sold raw milk directly to consumers.
The proposed ordinance was one of 78 being considered at the Sedgwick town meeting, that New England institution that has stood the test of time, allowing all of a town's citizens to vote yea or nay on proposals to spend their tax money and, in this case, enact potentially far-reaching laws with national implications. They've been holding these meetings in the Sedgwick town hall (pictured above) since 1794. At Friday's meeting, about 120 citizens raised their hands in unanimous approval of the ordinance.