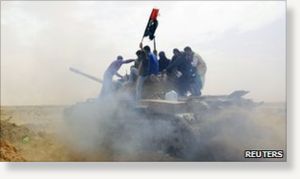 Every move in the diplomatic play-book has so far been thrown at the embattled Libyan leader Muammar Gaddafi and yet he is still hanging on to power.
Assets have been frozen, an arms embargo applied, and legal proceedings are being investigated by the International Criminal Court.
There's even been talk of an internationally enforced no-fly zone to prevent the Libyan leader using his air force to attack his own people.
Nobody, of course, believed that the machinery of international condemnation alone would topple the Libyan leader. That looked as though it was well in hand by Libyan opponents of his regime.
But as the fighting around Brega underscores, neither side seems to have the knock-out punch capable of defeating the other. Col Gaddafi appears unable to re-capture the eastern part of his country. And for now, his opponents seem unable to mount a major offensive against Tripoli.