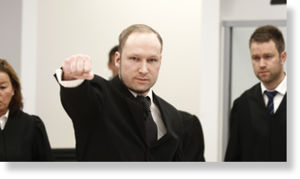 Oslo, Norway - Confessed mass killer Anders Behring Breivik on Wednesday slammed a psychiatric report that declared him insane as based on "evil fabrications" meant to portray him as irrational and unintelligent.
"It is not me who is described in that report," the right-wing extremist, who admitted killing 77 people in bomb and shooting attacks on July 22, said in court.
A second psychiatric examination found Breivik sane. The five-judge panel trying Breivik on terror charges for the attacks will consider both reports.
Breivik admits to the bombing of Oslo's government district that killed eight people and a subsequent shooting massacre at a Labor Party youth camp that left 69 people dead, most of them teenagers. He claims the attacks were "necessary" and that the victims had betrayed Norway by embracing immigration.
If found guilty, Breivik would face 21 years in prison, though he can be held longer if deemed a danger to society. If declared insane, he would be committed to compulsory psychiatric care.
After listening to testimony describing the horrific injuries of the bombing victims, Breivik showed no remorse, saying if anyone should apologize it was the governing Labor Party.
He said he had hoped they would change policy on immigration after his attacks.