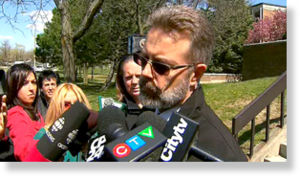 Canada, Toronto - A Toronto principal says security is adequate at his school despite his "shock" at finding a gun in a student's backpack.
Craig Crone says he and another teacher found the weapon while checking the bag after a fight at Oakdale Park Middle School and called 911 immediately.
Toronto police have confirmed a 12-year-old boy, who cannot be identified because of his age, is facing several charges in Friday's incident.
Const. Wendy Drummond says the weapon was a loaded Colt 38 Detective Special and police are looking into whether the boy may have found it and put it in his backpack.
The principal says while security can always be improved he believes it is "adequate" and the school, located in the city's northwest end, is safe.