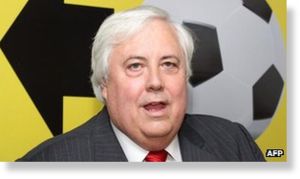 Clive Palmer, one of Australia's richest men, has commissioned a Chinese state-owned company to build a 21st Century version of the
Titanic
.
The mining billionaire told Australian media that construction will start at the end of next year.
It would be ready to set sail in 2016.
The plan, he added, is for the vessel to be as similar as possible to the original
Titanic
in design and specifications, but with modern technology.
Mr Palmer told Australian media that he had signed a memorandum of understanding with CSC Jinling Shipyard to construct the ship.
"It will be every bit as luxurious as the original
Titanic
but of course it will have state-of-the-art 21st Century technology and the latest navigation and safety systems," he said in a statement.
The announcement comes just weeks after the centenary of the sinking of the ill-fated
Titanic
.