Houston, Texas - The imprisoned father of two Texas children found living in an abandoned school bus is claiming the home was only meant to be temporary.
Mark Shorten said he planned to build a house on a wooded lot near Houston before he and his wife were arrested for embezzlement in 2010. Child welfare officials took custody of his children earlier this week after the siblings -- a 5-year-old boy and 11-year-old girl -- were found living in the dilapidated bus at the end of a muddy, one-lane road in Splendora, home to one of the poorest school districts in the state.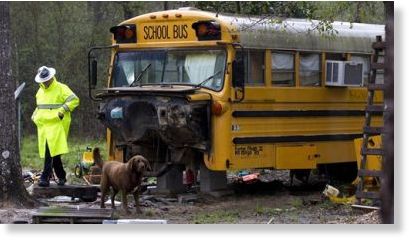 Fox affiliate KRIV-TV reported Thursday that no charges have been filed yet in the case. The children's parents are in federal prison for stealing money from victims of Hurricane Ike, which struck in 2008, according to the station.
The postal carrier saw the kids Wednesday near Houston, and the two were swiftly placed in foster care while authorities investigate.
"The little girl's hair was just matted, like a stray dog's," Vanessa Picazo said.