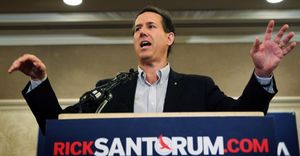 Rick Santorum thinks making college affordable for all is elitist. How else are Americans going to find good-paying jobs?
Say what you will about this era's Republican presidential candidates, they at least have chutzpah.
Millionaire blue-blood George W. Bush pretended to be a down-home cowboy. Two-time divorcee and longtime Washington influence peddler Newt Gingrich struts around preaching about traditional family values and insisting he's a D.C. outsider. Now, topping them all is Rick Santorum, who last week declared that only "snobs" support efforts to make a college education more accessible to all Americans.
Santorum, of course, has not one, not two, but a whopping three separate degrees, two of which come from public universities - that is, two that were taxpayer-subsidized, courtesy of the "Big Government" Santorum now claims to loathe.
Hypocritical - and dare I say, snobbish - as it is for someone with such a pedigree to attack President Obama's college affordability initiatives, Santorum did inadvertently stumble into a significant question: Is higher education for everyone? The answer today is not necessarily, but that's precisely because of the affordability problem Obama aims to solve.