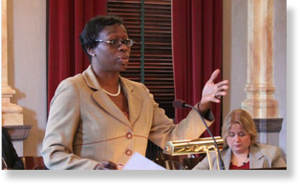 US - An Ohio state senior is using her frustration with state-level pushes to restrict women's access to reproductive health services, such as limiting coverage in their insurance plans, to flip the script with a new bill that would require men to take certain steps before obtaining a prescription to Viagra.
According to The Dayton Daily News
, State Sen. Nina Turner introduced a bill last week that would force any male to undergo sex therapy, receive a cardiac stress test and get a notarized affidavit signed by a sexual partner affirming impotency in order to get a prescription for any erectile dysfunction drug.
Turner's bill was a direct response to the "Heartbeat bill"
introduced in the Ohio House by Republican Lynn Wachtmann
, which would prohibit abortion once a heartbeat is detected, as early as six weeks into a pregnancy.