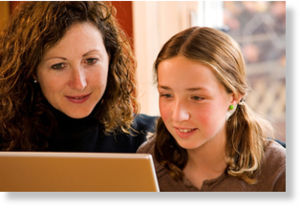 Considering the number of kids who have TVs, video game consoles and/or computers in their bedrooms these days, "Go to your room and think about what you did!" no longer cuts it as punishment.
But an Ohio mother has come under fire for innovative, yet questionable, technique she used in order to punish her daughter for "mouthing off" to her in front of her friends.
Denise Abbott temporarily banned her 13-year-old daughter Ava from using her cell phone or logging onto Facebook. But Abbott went one step further by doctoring Ava's Facebook profile photo to read:
"I do not know how to keep my (mouth shut). I am no longer allowed on Facebook or my phone. Please ask why. My mom says I have to answer everyone that asks."
Abbott also added a red X over the teen's mouth.
"If she can't talk respectfully to me, she's not going to be able to talk to anyone else either," Abbott
tells
the media .
Do Abbott's actions against her daughter constitute indefensible public humiliation? Or did the cyber-punishment fit the crime?