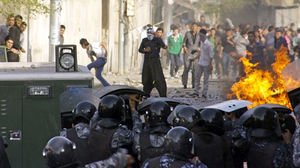 Iraq is falling back into authoritarianism and headed towards becoming a police state, despite US claims that it has helped establish democracy in the country, Human Rights Watch said on Sunday.
The criticism from the New York-based HRW comes less than a year after thousands of Iraqis took to the streets nationwide to criticise the government for poor services.
"Iraq cracked down harshly during 2011 on freedom of expression and assembly by intimidating, beating and detaining activists, demonstrators and journalists," HRW said in a statement accompanying its annual report.
HRW noted that Iraq remains one of the most dangerous places in the world for journalists, that women's rights remain poor and civilians have paid a heavy toll in bomb attacks.