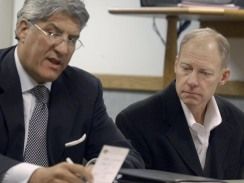 Prosecutors in Wisconsin say executive tied to SC Johnson empire molested girl up to 20 times, beginning after sixth grade
Racine, Wisconsin - A billionaire executive whose family has run SC Johnson for five generations was charged Thursday with having sexual contact with a now 15-year-old girl over the course of several years.
Samuel Curtis Johnson III, who goes by Curt, faces a count of repeated sexual assault of a child. The charge carries a maximum penalty of 40 years in prison and a $100,000 fine.
Johnson, 55, is the former chairman of Sturtevant-based Diversey Inc., a cleaning-products company that was spun off from SC Johnson in the late 1990s. Privately held SC Johnson makes household products including Pledge, Glade, Windex and Ziploc.