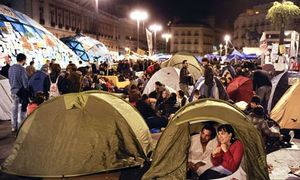 Protesters plan four-day campaign to mark the anniversary of Madrid's 'occupy' movement
The exhibition at Madrid's Ateneo cultural centre is full of precious artefacts carefully conserved to tell the story of a remarkable event in Spanish history; a moment when the world looked on in amazement at the eruption of a new utopian movement for change.
But this is no tribute to the distant past. The nylon tents, hand-painted cardboard signs and posters telling people to share their "dreams of a better world" are only a year old. They come from Spain's
indignado
movement as it marks its first birthday by reclaiming the streets and defying a rightwing government that has pledged to stop it reoccupying Madrid's Puerta del Sol square.
Police helicopters clattered overhead as
indignado
marches headed towards the square. Several thousand people were taking part in a good-humoured demonstration that included a loud birthday party and chants of "the people united will never be defeated". There were similar demonstrations in Barcelona and other cities around the country.