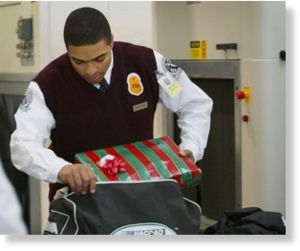 Presents will be unwrapped and opened by screeners
The Transportation Security Administration has a tip for Santas traveling by air this holiday season: wrap those gifts after you fly, not before.
If you pack wrapped presents, the TSA's little helpers - airport screeners - will tear them open, surely putting the kibosh on fliers' holiday cheer.
The Grinchy message may not help the agency's lackluster public image, but the policy is a security no-brainer - wrapped presents would be a gift to terrorists hoping to slip threats onto airplanes.
The wrapping paper isn't only a tool of terrorists.
Last week screeners opened one traveler's gift-wrapped packages at Los Angeles International Airptort and found 35 pounds of marijuana, according to Los Angeles'
Daily Breeze
.