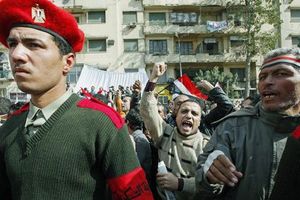 Egypt's military has warned people against staging fresh pro-democracy protests, saying it will not allow constant "illegal" strikes and demonstrations that have wreaked havoc on the economy.
The Egyptian Supreme Council of the Armed Forces, which has temporarily taken over power following the historic ouster of President Hosni Mubarak in the North African country, declared in its statement on Saturday that it will "confront" protests with "legal steps," the Associated Press reported.
The military has taken a hard-nosed approach toward continued mass pro-democracy protests at a time when massive walkouts by the public sector staff in protest against low wages and poor working conditions have raised the specter of new multi-million protests akin to the huge demonstrations that put an end to Mubarak's 30-year reign.
According to the military's statement, the warning is aimed at preventing the Egyptian economy from plunging into the abyss. However, labor strikes have continued as employees expressed fury at corruption and abuse of power by the cronies of Mubarak.