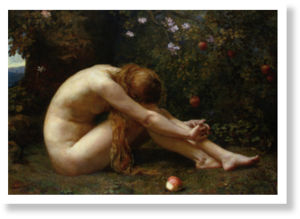 According to popular bible myth, Eve's consumption and sharing of the apple is the reason for the 'fall of mankind'. She and her mate were booted out of the Garden of Eden with strategically placed fig leaves and nary a pot to piss in. For a long time thereafter, women shouldered most of the blame for the alleged 'evils' of this world.
The garden of Eden tale is really a metaphor for the loss of humanity's creative energy, man's divorce from nature and subsequent marriage to the material. It was this separation that lay the groundwork for the distorted view of woman as 'evil' which then took root in many religions and continues to this day.
As with religion, both the Feminist and Vegetarian Movements were co-opted and twisted into something that seems more in line with fundamentalism than groups of people expressing ideas reflective of their choices.
What's interesting is how both these movements, in many cases, have become intertwined. Many feminists today seem to identify with vegetarianism and many female vegetarians have embraced the feminist cause. Both feminists and vegetarians have earned a reputation for vitriolic argumentation that often leaves their detractors recoiling in fear. If simple dialogue provokes such knee-jerk reactions, perhaps a closer look at the possible underlying motivations behind the feminist vegetarian/vegan (fem v/v) movement is warranted.