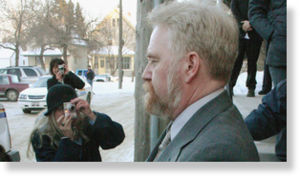 A Saskatchewan man who said he wanted to save his daughter from a life of drugs apologized Friday for shooting her boyfriend, but the victim's family didn't accept Kim Walker's regrets.
"You will never fully understand what you have done and I will never forgive you for it," James Hayward's brother Dan said in a victim impact statement released outside court.
Portions of the statement were read at Walker's sentencing hearing. Court of Queen's Bench Justice Ellen Gunn said she would decide his fate July 13.
Dan Hayward said his brother wasn't a monster or a saint.
"He was a 24-year-old man with problems, someone that made mistakes, just as many other people do in life," he said. "He never got the chance to straighten his life out because Kim Walker stole that chance from him."
Walker was convicted of manslaughter Thursday after being tried for a second time in Hayward's death. The 24-year-old was shot several times in his home in Yorkton, Sask., in March 2003.