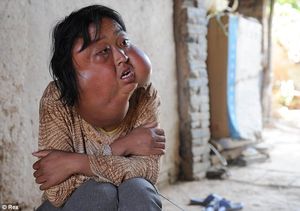 A Chinese mother-of-two has been left disfigured by tumours which have been growing on her face for the last ten years.
Li Hongfang, 40, is shunned in public because of the rare condition which has caused her face to slowly swell.
She has been unable to get medical treatment for Chordoma because she cannot afford it. The illness is a form of bone cancer which causes tissue to grow.
The trouble started in 2001 when she noticed a small patch of swelling on her forehead which she initially ignored because it was not painful.
When her condition was finally diagnosed four years later, doctors said she had seven tumours growing on her face.