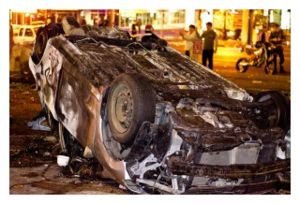 Once upon a time, most Americans had never even heard of "flash mob robberies" or "organized looting". Now they are considered to be a part of normal life in America. On Saturday, more than 20 teens stormed into a trendy clothing store in Chicago and stole more than
$3,000
worth of jeans, but it barely made a blip on the national news because this kind of thing has become so common. After all, we just saw the exact same kind of thing happen in
Jacksonville
,
Detroit
, Baltimore and a whole bunch of other places. Flash mob crimes have become so common in Chicago that they take public opinion polls about them.
But when I first started writing about this phenomenon a couple of years ago, hardly anyone knew what "mob robberies" were. In fact, I had to explain what these "flash mobs" were doing to a couple of radio hosts because they had never heard of such a thing. But now everybody knows about the flash mobs. Another disturbing trend that we are seeing all over America is "organized looting". Groups of desperate criminals are going into empty or abandoned buildings and stripping out copper wire, copper pipes and anything else that they can sell for money. At one time these kinds of thefts made the news, but now they have also become so common that they don't get much notice anymore.
The sad truth is that the streets of America
are changing
. They are becoming a lot more hostile and a lot more dangerous.
Young people
in America today
do not have respect for authority, they do not have respect for those that are older than them and they do not even have respect for themselves.
Posted below is
surveillance camera footage
of the mob robbery mentioned above during which thousands of dollars worth of jeans were stolen. These kids obviously plotted to commit this crime well in advance. These kids have so little respect for themselves that they are willing to potentially jeopardize their futures over a few pairs of lousy jeans....
Will any of those kids go to jail eventually?
That is a very good question.
In other areas of the country, law enforcement is so overwhelmed that they just let cases such as this one go.