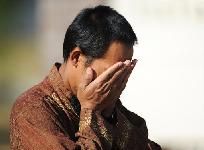 A mosque in southwest Missouri burned to the ground early Monday in the second fire to hit the Islamic center in little more than a month, and investigators spent the day combing through the wreckage searching for evidence of arson.
No injuries were reported, but the Islamic Society of Joplin's building was a total loss after the blaze, first reported at about 3:30 a.m., the Jasper County Sheriff's Office said. As of late Monday, nobody had been arrested in connection with the fire.
Investigators from the FBI, the Bureau of Alcohol Tobacco and Firearms and the Jasper County Sheriff's department were at the scene all day Monday, moving the rubble with a bulldozer and other equipment. A specially trained dog assisted.
Only remnants indicated a building had been there, including some stone pillars that were still standing and a few pieces of charred plywood loosely held up by a frame.