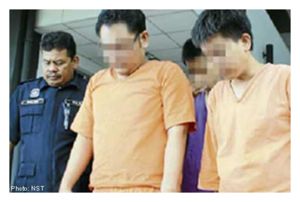 Bukit Mertajam - A toddler died during what is believed to be a 20-hour exorcism ritual.
Police stormed a double-storey house in Taman Bukit Minyak on Sunday night and found a group of eight people lying on top of the two-year-old girl.
The girl was lying face down under the human pile made up of her parents, grandmother, uncle, aunt, two cousins and their Indonesian maid.
Central Seberang Prai OCPD Asst Comm Azman Abd Lah said the family members, aged between 16 and 67, were lying on top of each other with the toddler at the bottom in the master bedroom. The lights in the room were switched off.
"The child died due to breathing difficulties," he said. Her body has been sent to the Seberang Jaya Hospital for a post-mortem.
The case, he added, was being investigated under Section 302 of the Penal Code for murder.
Apparently, another of the girl's uncles had earlier come by to invite the family for dinner but was chased away.