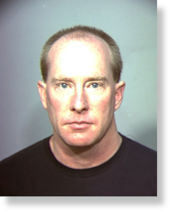 US: Modesto, California - A
former
California teacher who made national headlines when he left his job and family to move in with an 18-year-old student was arrested Friday on suspicion of sexually abusing a different student more than a decade ago, police said.
Christopher James Hooker, 41, was arrested for investigation of oral copulation with a minor.
Police said the case stems from a 1998 relationship he had with a 17-year-old student from Davis High School in Modesto, where he once taught.
Hooker appeared in court Friday. A judge set his bail at $50,000 and assigned him a public defender, the
Modesto Bee reported
.
Hooker requested that his bail amount be reduced, and the judge set a hearing next Tuesday to consider the matter.