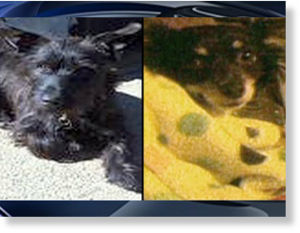 Two dogs belonging to a Concord woman were found dead after police said they ate poisoned meatballs. A disgruntled neighbor is accused in the case.
On June 4th, DJ, the woman's black Scottish terrier was suffering from seizures. Despite a visit to the vet, the dog died the same day. Two days later, the owner's second dog, Coco, died.
Tom Tarbill lives next door to the victim and believes the suspect may have gained access to his neighbor's yard through his backyard.
"I was pretty shocked," he said. "This guy, apparently, he just doesn't like dogs for one, and that kind of reflects on his character, I believe."
The owner of the dogs, who is currently out of town and did not want her identity revealed, told CBS5 by phone that she found four meatballs in her yard, and had received three threatening letters this year.