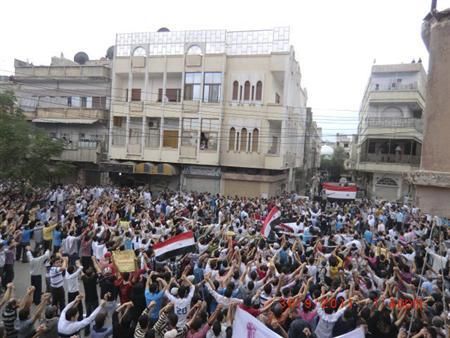 Syrian soldiers have taken control of most of the town of Rastan from deserters and gunmen, an activist said on Saturday, after the most prolonged armed clashes of the six-month uprising against President Bashar al-Assad.
Rami Abdel-Rahman, head of the British-based Syrian Observatory for Human Rights, said a force of 250 tanks was sent to the region on Friday and the army was deployed across 80 percent of Rastan.
Communication with the town of 40,000 people, 180 km (110 miles) north of Damascus, was difficult but Abdel-Rahman said a resident who managed to escape early on Saturday reported heavy gunfire throughout the night.
Syria says it is fighting terrorists there. The state news agency said on Friday seven soldiers and police were killed in the operation but had succeeded in inflicting "big losses on the armed terrorist groups."