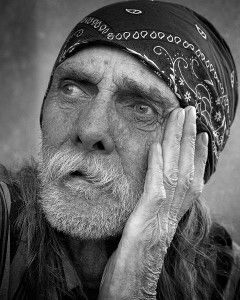 America is becoming a very cold place. If you don't have money, you don't really matter much in our society. The ads on television aren't for you - they are directed at people that actually have good jobs and that can afford to buy the nice little "extras" in life. The politicians aren't really interested in you either - they figure that they can buy your vote with all of the money that they are getting from the wealthy people. When you don't have money, even friends and relatives start to distance themselves from you. Perhaps they are afraid that you will ask them for money or perhaps they are afraid that your "failure" will start to rub off on them. When people know that you are struggling for money, the barriers immediately go up.
In the United States today, there are tens of millions of people that have been forsaken and forgotten. They mostly stay at home (if they still have a home), and for most of them quiet desperation has become a way of life. You won't ever read much about them or see them appear much on television because nobody really cares too much about them. As far as society is concerned, there are just way too many of them and they are a problem that "the government" should be able to handle anyway. Sadly, the truth is that many communities all across America want absolutely nothing to do with those that can't take care of themselves.
All over the country cities are passing laws making it illegal to
feed the homeless
, and in other instances cities are actually making it illegal
to be homeless
.
Unfortunately, this problem is not going away. In fact, the number of Americans living in poverty increases with each passing day. So where do we go from here?