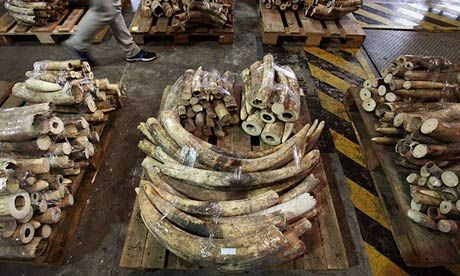 Customs officers find a tonne of elephant tusks hidden under rocks in shipping container in third big seizure in three months.
Hong Kong authorities have made their third big seizure of illegal ivory in three months, confiscating more than a tonne of elephant tusks worth $1.4m, customs officials said on Friday.
Customs officers seized 779 pieces of ivory weighing 1,323kg (2,916lb) in a shipping container that arrived at Hong Kong's port from Kenya after passing through Malaysia.
The officers discovered the ivory after x-raying the container, which was declared to be carrying architectural stones. Forty sacks holding the ivory were found inside five wooden crates, hidden under rocks.
The investigation is still continuing. No one has been arrested.