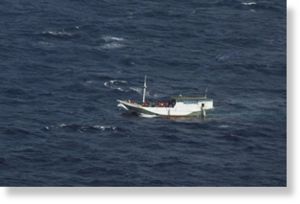 Sydney - Six people were plucked alive from the ocean by a cargo ship Thursday after an asylum-seeker boat went missing off the Indonesian coast, as hopes faded for the 144 still unaccounted for.
The recovery of the survivors by the APL
Bahrain
, after nearly a day in the water, came after Indonesian rescuers abandoned their search.
"We have had confirmation that six survivors have been rescued by a merchant vessel," an Australian Maritime Safety Authority (AMSA) spokeswoman told AFP, adding that the distress call they received said 150 were on board.
In an update, AMSA said crews at the scene had made sightings of debris, but there were no further reports of survivors or bodies being recovered.
Indonesia's National Search and Rescue Agency (Basarnas) received an alert from AMSA early Wednesday that a boat was in distress between Java and Sumatra, 220 nautical miles from the Australian territory of Christmas Island.
Basarnas sent two police rescue boats and a helicopter but found nothing and returned to base, only for AMSA to task the
Bahrain
, which responded to an earlier broadcast to shipping, to attend a broader search area.
The captain of the
Bahrain
said screams and whistles alerted his crew as it scoured the Sunda Strait in darkness.