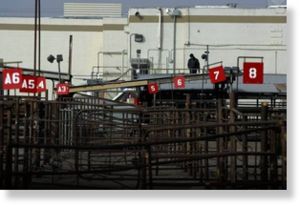 The owners of a Southern California slaughterhouse whose workers were caught on videotape abusing cattle, leading to one of the nation's biggest beef recalls, have agreed to pay more than $300,000 to settle a lawsuit.
The Los Angeles Times
reports
Donald Hallmark Sr. and Donald Hallmark Jr. also agreed to a nominal $497-million judgment against the now-defunct Hallmark Meat Packing Co., which will not be collected because the company is bankrupt.
The Hallmarks were two of nine defendants in a federal False Claims Act suit brought by the Humane Society of the United States.
The government recalled 143 million pounds of beef in 2008 after the Humane Society released video from the Chino plant showing cows too sick or injured to stand being dragged with chains and rammed with a forklift.
Source: The Associated Press