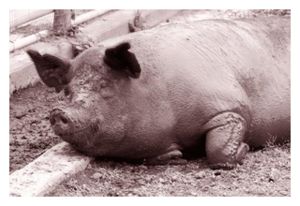 A number of new laws went into effect after the toll of midnight on Dec. 31, and from the wise to the wacky, they're now officially on the books in states across America.
In Kentucky, for example, it's illegal to release a feral hog into the wild. The law makes sense, according to
Politico
, because wild hogs have been running amok in Kentucky's farmland, destroying crops and spreading disease.
Though the U.S. Department of Agriculture has been using gun-equipped helicopters to cull packs of wild hogs in the state, their populations continue to increase. The beasts are now found in 37 of Kentucky's counties, up from 19 counties in 2009, reports
Politico
.
The state of Illinois has dealt a blow to necrophiliacs, specifically outlawing
sex with a corpse
for the first time. Previously, the only charge authorities could level was "criminal damage to property."
"The death of a loved one is bad enough, but it should be much more than criminal damaged property," state Rep. Daniel Beiser told the
St. Louis Post-Dispatch
. "This is a completely inappropriate charge."