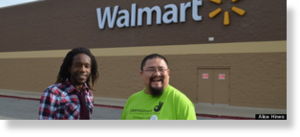 Dallas - On Thanksgiving afternoon, as freshly stuffed Americans prepared for the shopping bacchanal known as Black Friday, hundreds of Walmart workers readied themselves for a wholly different experience: joining strikes and labor actions planned for the next two days at some 1,000 Walmart stores around the country.
Here in Dallas, as well as in Miami and the San Francisco area, Walmart employees were planning to walk off work and demonstrate early Thursday evening, as shoppers began to arrive in pursuit of the ultra-cheap deals known as doorbusters. The strikers sought to protest low wages and a lack of benefits, while also challenging what they allege has been a pattern of Walmart's retaliation against workers who try to organize. They hoped to use the Black Friday spotlight to sway shoppers to their side.
"It's a question of education," said Josue Mata, a maintenance worker at Walmart in Wheatland, Texas, and a member of OUR Walmart, the labor group that is coordinating the strikes. "We have to show people that we're not just a crazy bunch of protesters."
But Walmart, the world's largest retail chain, was banking on the labor actions amounting to not much in the face of enormous consumer demand for what it provides best: a wide array of products at some of the very lowest prices available. "We don't expect this to have a significant impact," Walmart spokesperson Kory Lundberg told
The Huffington Post
in a phone interview. "The overwhelming majority of our associates are excited for our Black Friday events." (The company calls its workers "associates.")
In short, the protests aimed at Walmart on what is traditionally the busiest shopping day of the year may constitute a test of the nation's sympathy for low-wage workers -- many of whom earn so little that they qualify for food stamps -- against the powerful American yearning for a great deal.