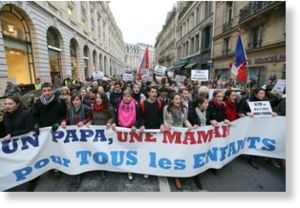 Thousands of Catholics and other opponents of French government plans to legalise gay marriage and same-sex adoption marched in Paris on Sunday, a day after more than 100,000 turned out across France for the cause.
The rally, organised by conservative Catholic group Civitas, was marred by accusations that journalists covering the rally and topless counter-protesters partially dressed as nuns had been roughed up by demonstrators.
French feminist writer and columnist Caroline Fourest said about a dozen topless activists from the Ukrainian-based women's movement Femen had shown up to the protest dressed as nuns and chanting "humourous" slogans.
"When they moved toward the demonstrators, some of (the protesters) ran after them, raging," Fourest said in a phone call with AFP from a police wagon, where the women had been taken for their own safety.
She claimed the women were hit by their pursuers, who also lashed out at journalists filming the scene.
Several photographers were roughed up, an AFP photographer said. The local police station said officers had made five arrests.
French Socialist party first secretary Harlem Desir denounced the aggression as "stupid".