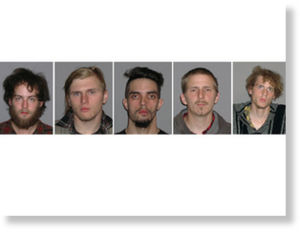 Three of the suspects accused of plotting to blow up a bridge near Cleveland, Ohio were sentenced in federal court on Tuesday to no fewer than eight years apiece behind bars.
Douglas Wright, 26, will serve more than 11 years in prison this week - 138 months, to be exact - for his role as the supposed 'ringleader' behind an unsuccessful plot hatched by self-proclaimed anarchists to destroy a major bridge over the Cuyahoga River. His cohorts Brandon Baxter and Connor Stevens, both 20 years old, were sentenced to roughly 10 and eight years, respectively, for their role in the plan.
Stephen D. Anthony of the Cleveland Division of the FBI said early on in the investigation that "The individuals charged in this plot were intent on using violence to express their ideological views," and prosecutors said that they hoped that by doing so they would "send a message to corporations and the United States government." That case has come under scrutiny from some, however, who have called into question the Federal Bureau of Investigation's own role in advising the accused terrorists in the days before they were expected to act.
According to the FBI's investigation, Wright and his colleagues were coached into plotting an attack on the Valley View Bridge over the Cuyahoga River after an undercover source working for the feds infiltrated their social circle and offered to help them obtain explosives. The court has admitted that Wright initially suggested the group use items such as stink bombs or paint guns to wage a more low-profile attack that would get the attention of the government. After being repeatedly coerced by the confidential source to consider something bigger, though, Wright and his peers purchased from an FBI agent what they were told were explosives. From there, they were busted in late April.