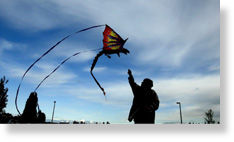 The city is considering a ban on dangerous kite flying from city parks.
A report going to the Parks and Environment Committee next week recommends a ban on kites with strings made of hazardous materials including fishing line or piano wire.
The report also recommends a permit process for competitive kite flying and a ban on kites in parks that have "significant bird activity."
City staff are calling for a $300 fine for any infraction.