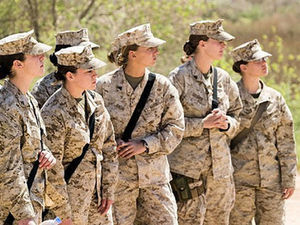 An investigation into misconduct by Air Force trainers at a Texas base found that at least 48 female students were victims of sexual assault or other transgressions by their instructors, according to a report released Wednesday that dissected the culture that enabled
the worst military sex-abuse scandal in recent history
.
The investigation, sparked by a rape allegation at Lackland Air Force Base in June 2011, has ensnared 23 trainers who were found to have engaged in inappropriate behavior ranging from sexual assault to online flirtation with students between October 2010 and June 2011.
The Air Force report said that at least 13 trainees were victims of sexual assault during that period, including six who were abused by the same instructor. Instructors had inappropriate relationships with 26 trainees that involved some form of physical intimacy, and they engaged in improper relationships with nine students that did not include physical contact, according to the investigation.
The report said that sexual misconduct at the San Antonio base, where roughly 500 trainers teach about 35,000 cadets each year, is "as abhorrent as it is rare" but noted that the scope of the problem has nonetheless become of great concern to senior leaders.
"It tears the fabric that holds us together as an Air Force because it destroys our trust, faith and confidence in each other," the report said.