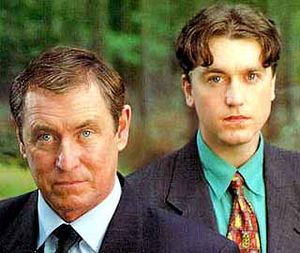 As uproar threatens the sleepy world of
Midsomer Murders
, Iain Hollingshead visits Haddenham - which has featured regularly in the long-running murder mystery series - to discover the truth behind the camera.
If Greg Dyke, the former Director-General of the BBC, thought the organisation he once led "hideously white", I wonder what he'd make of ITV's
Midsomer Murders.
Yesterday, there was uproar when Brian True-May, the show's co-creator and executive producer, told
Radio Times
that the drama, which regularly attracts six million viewers and is just starting its 14th series, has thrived because its all-white cast shows the true English village - a genteel, if somewhat homicide-prone, contrast to the multiculturalism that prevails in Britain's cities.
It is, he said, the "last bastion of Englishness". An ITV spokesman declared himself "shocked and appalled" by the comments made by Mr True-May, who was promptly suspended by the production company, All3Media.