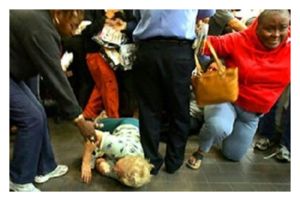 If Americans will trample one another just to save a few dollars on a television, what will they do when society breaks down and the survival of their families is at stake? Once in a while an event comes along that gives us a peek into what life could be like when the thin veneer of civilization that we all take for granted is stripped away. For example, when Hurricane Sandy hit New York and New Jersey there was
rampant looting
and within days people were
digging around in supermarket dumpsters
looking for food. Sadly, "Black Friday" also gives us a look at how crazed the American people can be when given the opportunity. This year was no exception. Once again we saw large crowds of frenzied shoppers push, shove, scratch, claw, bite and trample one another just to save a few bucks on cheap foreign-made goods. And of course most retailers seem to be encouraging this type of behavior. Most of them actually want people frothing at the mouth and willing to fight one another to buy their goods. But is this kind of "me first" mentality really something that we want to foster as a society? If people are willing to riot to save money on a cell phone, what would they be willing to do to feed their families? Are the Black Friday riots a very small preview of the civil unrest that is coming when society eventually breaks down?
Once upon a time, Thanksgiving was not really a commercial holiday. It was a time to get together with family and friends, eat turkey and express thanks for the blessings that we have been given.
But in recent years Black Friday has started to become even a bigger event than Thanksgiving itself.
Millions of Americans have become convinced that it is fun to wait in long lines outside retail stores in freezing cold weather in the middle of the night to spend money that they do not have on things that they do not need.
And of course very, very few "Black Friday deals" are actually made in America. So these frenzied shoppers are actually
killing American jobs
and destroying the U.S. economy as well.
The absurdity of Black Friday was summed up very well recently in a statement that has already been retweeted on Twitter
more than 1,000 times
...
"Black Friday: because only in America people trample each other for sales exactly one day after being thankful for what they already have."