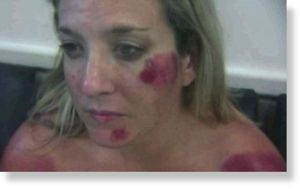 A 34-year-old registered nurse and mother was brutally body-slammed to the pavement by two male Los Angeles Police Department officers after being pulled over for talking on her cellphone, ABC4 reports.
Michelle Jordan's (pictured) Aug. 21 takedown was caught on surveillance video from a Del Taco restaurant, not too far from a where she was stopped. The video shows her stepping out of her vehicle after she parks - a move that, traditionally, is not advised. It is commonly understood that a person who is pulled over should stay seated in their car with the ignition turned off and their hands placed firmly on the wheel to show they are not an immediate threat.
"She made some unwise moves," said her attorney Sy Nazif. "But certainly nothing that warranted a physical assault from the LAPD."