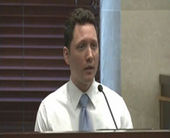 Orlando, Fla. - On Thursday, for a second day, Anthony Lazzaro, the former boyfriend of Casey Anthony, took the stand during her murder trial. During his testimony he revealed that was told a secret by Casey prior to her arrest for killing her daughter, Caylee Anthony.
Casey, 25, is charge with murdering Caylee in the summer of 2008.
Between June 15, the last day the girl was seen by anyone other than Casey and the day Caylee was reported missing by her grandmother, Cindy Anthony, Casey told no one about the little girl's whereabouts.
The girl's remains were discovered in a wooded area near the Anthony family home on Dec. 11, 2008.
Defense attorney Jose Baez asked Lazzaro about the mysterious secret Casey told him prior to her arrest, however, because his response would have been considered hearsay, he was not allowed to divulge exactly what the secret was.