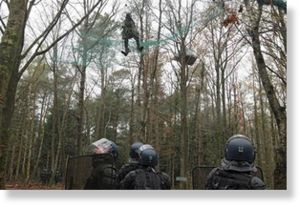 Paris - Protesters squatting in treetop tents and makeshift shelters are battling French riot police trying to expel them from the site of a planned airport in western France.
Officers hurled tear gas projectiles and protesters responded with gas bombs and stones, as the two sides went head to head for a second day over a project that critics say will destroy woodland and cause pollution.
Eight people were arrested Saturday and three were hurt in the fighting, according to the Sipa news agency.
The issue has split the Socialist-led government of Prime Minister Jean-Marc Ayrault, which includes some Green Party members. Ayrault is the longtime mayor of the nearby city of Nantes and has championed the airport plan.