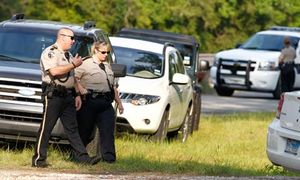 Woman faces false reporting charges after police, FBI and dog search of rural home beamed live to millions ends in red faces
Police in Texas are investigating whether a tip-off from a woman claiming to be a psychic that sparked a hunt for a mass grave of dismembered bodies, including children, was a hoax.
Officers raided a rural farmhouse in Hardin, north-east of Houston, after receiving a report that up to 30 bodies were hidden inside. But, hours later, after nothing untoward had been found, police gave up the search.
"There's no crime scene," said Liberty County judge Craig McNair as deputies, Texas Rangers and FBI agents ended their fruitless search
that was beamed live to millions on national TV.
Captain Rex Evans, spokesman for the Liberty County Sheriff's Office, said the woman, who twice called in the tip, would now be investigated for making a false report.