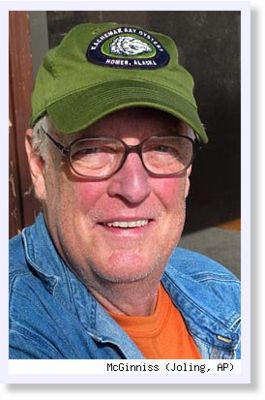 Anchorage, Alaska - Sarah Palin can take down the fence.
Palin's neighbor of three months on Wasilla's Lake Lucille, author Joe McGinniss, is packing his bags and notebooks and leaving Sunday for his home in Massachusetts to write the book he has been researching on the former governor and GOP vice presidential candidate.
His arrival in May made headlines and drew an indignant reaction from Palin and a visit from her husband, Todd. The Palins even tacked an extension onto an 8-foot board fence between the homes, leaving only a part of their second-story home visible from McGinniss' driveway.
Peeping into windows or peering through knotholes was never part of his research, McGinniss said.
"I've been very busy but on Lake Lucille it's been very quiet," he said. "As I told Todd back in May - he came over to get in my face about moving in there - I said, 'You're not even going to know I'm there. A lot of the time, I'm not going to be here. And when I am, I mind my own business. I don't care what happens on your side of the fence. That's not why I'm here.'"
And that's how it has played out, McGinniss said.
A Palin spokesman didn't immediately respond to an e-mail Saturday seeking any comments from the governor on the author's departure.
McGinniss has written best-selling books, including
The Selling of the President
, on the marketing of Richard Nixon,
Fatal Vision
, an account of the Jeffrey MacDonald murder case, and
Blind Faith,
about a businessman's contract killing of his wife.