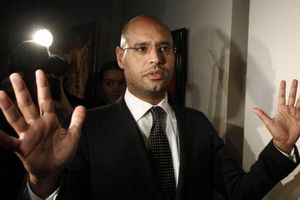 The son of Libyan ruler Muammar Gaddafi, Seif al-Islam, has warned against an ominous civil war in the North African country amidst Libya's popular uprising.
"Libya is at a crossroads. If we do not agree today on reforms, we will not be mourning 84 people, but thousands of deaths, and rivers of blood will run through Libya," Saif al-Islam Gaddafi said in a televised speech on Sunday.
He accused the factions of attempting to stir chaos in the country and offered dialog and the establishment of local governments in a bid to quell the nationwide uprising.
He also warned that the situation has become extremely dangerous in Libya, emphasizing that his country is not Tunisia or Egypt.