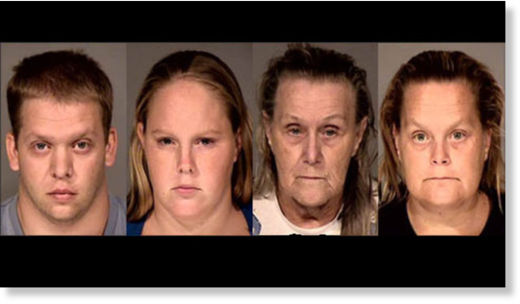 Police say the family of a 10-year-old Arizona girl who suffocated to death in a plastic container locked her inside as punishment for stealing a popsicle from the refrigerator.
Police arrested Ame Deal's aunt, Samantha Allen, and her uncle, John Allen, on charges of first-degree murder.
The girl's grandmother, Judith Deal, 62, and her aunt, Cynthia Stoltzmann, 44, were also arrested and charged with child abuse and kidnapping. Cynthia Stoltzmann was the girl's legal guardian. Family members originally told police that the 10-year-old's death was the tragic ending to a game of hide and seek. They claimed Ame must have climbed into the box to hide and accidentally suffocated.
Police said Thursday that Ame Deal had been abused for a long time, and had been locked in a chest as punishment, reports
CBS affiliate KPHO
.