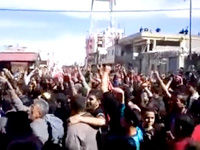 Unrest spread in southern Syria on Monday with hundreds of people demonstrating against the government in the town of Jassem, activists said, but authorities did not use force to quell the latest protest.
Security forces killed four civilians in demonstrations that erupted last week in the town of Deraa, in the most serious challenge to President Bashar al-Assad's rule since the 45-year-old succeeded his father 11 years ago.
"This is peaceful, peaceful. God, Syria, freedom," chanted the protesters in Jassem, an agricultural town 30 km (20 miles) west of Deraa.
The authorities appeared to adopt less heavy-handed tactics, choosing not to intervene against protests demanding freedom and an end to corruption and repression, but not the overthrow of Assad. The ruling Baath Party has banned opposition and enforced emergency laws since 1963.
In Deraa, hundreds of black-uniformed security forces wielding AK-47 assault rifles lined the streets but did not confront thousands of mourners who marched at the funeral of 23-year-old Raed al-Kerad, a protester killed in Deraa.