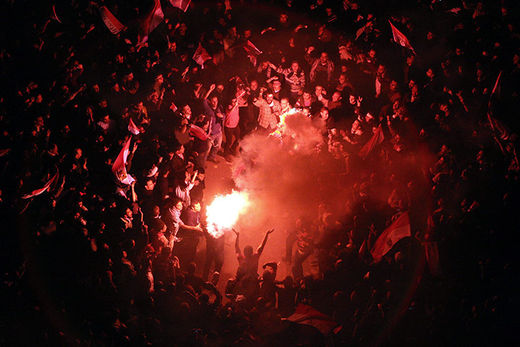 Dog Poet Transmitting.......
The Egyptians are doing what is necessary to force change. The workers are striking. This is the key action necessary to bring down a government when you lack the guns and the media. No government can endure a protracted shutdown of the economy. It was through the economy and the currency that corporations and a certain criminal banking country took over control of so many governments in the first place. I believe it is a principal law of most countries that the government cannot be ruled by a foreign power. Trafficking with influence for gain is a form of treason. It is widespread now, throughout the western world and the reason the economies are crumbling, due to the activities of corporations and banks.
The predictable behavior of corporations is what led to the definition of fascism as being, 'government under corporate control'. In America, the single biggest evidence that this is so, came about when the highest court in the land ruled that it was legal for corporations to buy the government. A decade earlier they were the last gasp fixer, for a stolen election. Nothing has been the same since and quality of life is in the toilet, except for the few who are
living it up
at the expense of the many. When an economy shuts down, by the will of the people who turn the wheels, everything comes to a halt.