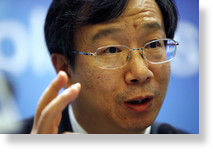 Europe and the euro will remain among the most important areas of investment for China's world-record $2.65 trillion of foreign-exchange reserves, a central bank official said in the nation's latest show of support.
"The euro and the European financial markets are an important part of the global financial system and were, are and will be one of the most important investment areas for China's foreign-exchange reserves," Deputy Governor Yi Gang said in a statement on the central bank's website.
China's statements of support have included Vice Premier Li Keqiang this week expressing confidence in Spain's financial markets and pledging more purchases of that nation's debt. In backing European economies, China may help to prop up demand in the region that is its biggest market for exports and also the value of its euro-denominated assets.