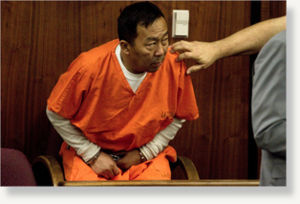 To the Chinese immigrants he recruited, Yupeng Deng was known as Supreme Commander. He offered them United States Army uniforms, conducted training exercises on Sundays, led marches in municipal parades and promised a path toward American citizenship.
The uniforms were real, but Mr. Deng's U.S. Army/Military Special Forces Reserve unit was a sham, the authorities said.
On Wednesday, Mr. Deng, 51, was arraigned in Los Angeles County Court on 13 felony charges related to the fake military operation, which concentrated on Chinese immigrants, eager to become American citizens, in the San Gabriel Valley, east of Los Angeles.
More than 100 immigrants paid upwards of $300 to join the bogus unit, the authorities said, and $120 to renew their memberships each year. In addition, recruits could increase their rank with additional cash donations to Mr. Deng, according to the Los Angeles County district attorney's office, which is prosecuting the case.