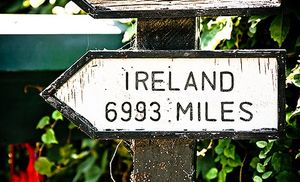 Generations of young people and skilled workers are leaving Ireland to seek out a better life abroad, the
Financial Times reports
. Ireland's inflows and outflows of population have shifted drastically over the course of the past few years. While the country once posted one of the higher immigration rates across the continent, in 2012 it led the way in emigration, with some net
35,000 people leaving the country
. The financial crisis appears to have been the trigger for the shift, causing many Irish residents to think that they have better futures outside of their home country.
The problem has only been exacerbated by the status of Ireland's youth. With
youth unemployment above 25 percent, as it is in many parts of Europe
, young people in the country have increasingly found themselves without work. Plus, with unemployment benefits for youth being trimmed in Ireland's austerity measures, many people simply do not have the means to sit around and wait for work to become available. For such people, emigration becomes the only option.