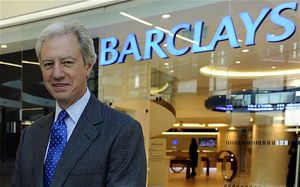 Marcus Agius is to resign as the chairman of Barclays in the wake of the Libor lending rate scandal
.
BBC business editor Robert Peston says Mr Agius will admit to an "unacceptable standard of behaviour" at Barclays when he makes the announcement on Monday.
It comes after Barclays was fined £290m ($450m) for attempting to manipulate the Libor inter-bank lending rate.
Earlier, it emerged RBS had sacked four traders over their alleged involvement in the Libor-fixing scandal.