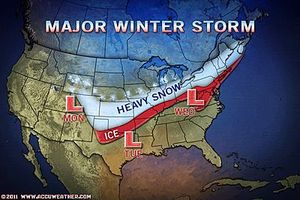 Hartford, Conn. - For Northeastern farmers long used to coping with all sorts of cold-weather problems, this winter presents a new one: snow and ice that's bringing down outbuildings, requiring costly repairs, killing livestock and destroying supplies.
Farmers in Connecticut alone have lost at least 136 barns, greenhouses, sheds and other structures as snow measured in feet, not inches, accumulated while January passed without a thaw.
"We've had other challenges," said Joe Greenbacker, a partner at Brookfield Farm in Durham, where a fabric-covered "hoop house" caved in and killed a calf. "But this is the most snow I can remember on the ground and the biggest problem with roof issues I can remember."
Losses still are being totaled by the state Agriculture Department. Commissioner Steven Reviczky says no one can remember a more destructive winter.
The Northeast is suffering through one of its most brutal winters in years, with cities all along the seaboard reporting snow piling up at a record-setting pace. Connecticut has been especially hard-hit, with Hartford reporting 81 inches since Dec. 1, compared with an average of 46 inches, according to the National Weather Service.