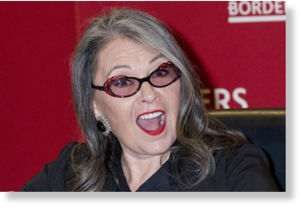 Roseanne Barr has no love for Casey Anthony -- and she tells us all about it on Twitter.
America has had a day to calm down from the shock of the
Casey Anthony not guilty verdict
, though yesterday's trial conclusion seems to be all anyone is talking about. One person who is certainly not shy about expressing her hatred for the
possible future porn star
is comedian Roseanne Barr.
Barr has been tweeting non-stop about the case since early Tuesday -- and her rants have devolved into bizarre territory at times.
The tweets started off innocuous enough.
"Let's all remember how much we cared about this one little girl and try to help all little abused kids even more now," she tweeted right before the verdict.
However, her tweets devolved into a rant after Anthony was found innocent.