The Black Death
, a strain of bubonic plague that destroyed nearly a third of Europe's entire population between 1347 and 1369, has been found in Oregon. Health officials in Portland
have confirmed
that a man contracted the plague after getting bitten by a cat. The unidentified man, who is currently in his 50s, had tried to pry a dead mouse from a stray cat's mouth on June 2 when the cat attacked him.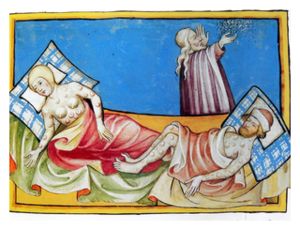 A few days after getting bitten, the resident from the rural town of Prineville in Crook County developed a fever. By June 8, the man was so sick that he checked himself into St. Charles Medical Center in Redmond, Ore. He has since been transferred to the larger St. Charles facility in Bend. He was believed to be suffering from septicemic plague -- meaning the bacteria was spreading into his bloodstream -- and he is currently in critical condition.
"This can be a serious illness," said Emilio DeBess, Oregon's public health veterinarian. "But it is treatable with antibiotics, and it's also preventable."
The Black Death originated in rats -- black rats in particular -- but the bacteria thrives in forests, grasslands and any wooded areas inhabited by rats and squirrels. Even though rats were carriers, the disease was spread by the fleas that infested their bodies. Fleas would bite the rat, and the plague bacterium -- later identified as
Pasteurella pestis
, and renamed
Yersinia pestis --
would stay in the intestinal track of the flea until the insect regurgitated it on its next victim; rodent populations can carry the plague bacteria without it killing them off, and the bacteria can travel back and forth from rats to fleas, also known as
the sylvatic or enzootic cycle
. When the fleas bit humans during this period, humans became exposed to the bacteria -- and became likely to die. Without the help of modern medicine, Europeans in the Middle Ages could do little to combat the plague.