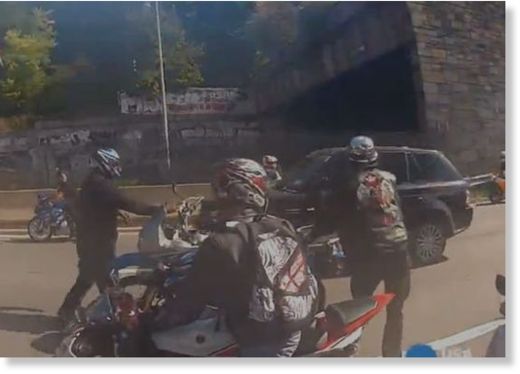 One biker was struck by the car and may be paralyzed for life
A 28-year-old motorcyclist was charged Wednesday with reckless driving in an encounter with the driver of an SUV who was later beaten after a high-speed chase by dozens of bikers that was captured on videotape.
Christopher Cruz, of Passaic, N.J., was also charged with unlawful imprisonment. His attorney, H. Benjamin Perez, said Cruz denied all the allegations. "He will come back to fight this case and clear his name," he said.
Cruz has had previous criminal cases in New Jersey including one in which he pleaded guilty to theft, the Associated Press reports.
A second suspect, Allen Edwards, 42, surrendered to police on Tuesday but was released on Wednesday pending further investigation.