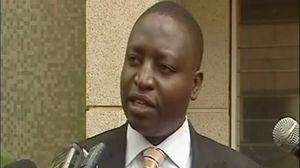 A Ugandan member of parliament has
reintroduced
a bill that increases criminal penalties for some homosexual acts, but dropped a provision that allows homosexuals to be executed by the state.
Parliamentarian David Bahati on Tuesday reintroduced the so-called "kill the gays" bill that he had first introduced in 2009. It was later shelved in 2011 after an international outcry.
Homosexuality is already illegal in Uganda, but under the original bill, some homosexual acts would have been punishable by death. The latest iteration of the bill
increases
current punishments for certain acts to life in prison.
Ugandans would also face criminal prosecution if they failed to report homosexuals to authorities.
In 2010, President Barack Obama called the first version of the bill "odious."