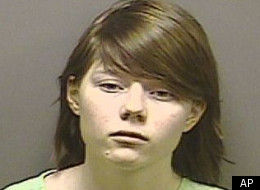 Jefferson City, Missouri: A U.S. teenager who confessed to strangling, cutting and stabbing a 9-year-old neighbour because she wanted to know how it felt to kill someone was sentenced Wednesday to life in prison with the possibility of parole.
Alyssa Bustamante, 18, had pleaded guilty to second-degree murder and armed criminal action in the October 2009 slaying of Elizabeth Olten in their small Missouri town. In her diary, she described the experience as "pretty enjoyable."
Bustamante had been charged with first-degree murder. By pleading guilty to the lesser charges, she avoided a trial and the possibility of spending her life in an adult prison with no chance of release.
Bustamante was 15 when she confessed to strangling Elizabeth, repeatedly stabbing her in the chest and slicing the girl's throat. She led police to the shallow grave where she had concealed Elizabeth's body under a blanket of leaves in the woods.